Looking for the perfect farewell gift for a special coworker? The standard farewell card that everyone on the team signs and writes, "good luck on your next adventure!" is fine.
But what if you're sending off someone truly special? I have the perfect template you can borrow to make something truly memorable for that special officemate.
What is the ultimate farewell gift?
It's certainly not just a "Good luck and farewell" card. Gift cards to their favorite store will definitely be appreciated and are a nice addition.
🎁
The next tier of farewell gifts has to be meaningful and customized.
It can take many forms, from a photo album or a short video montage. But since this is a site about presentations and presentation design. My ultimate farewell gift is a presentation.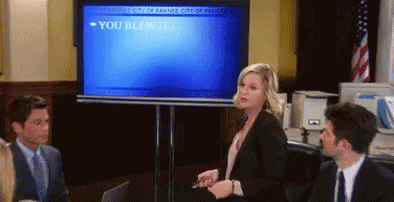 Why is a farewell presentation a great gift?
Here are a few reasons why I think it makes a great gift:
It's personalized and thoughtful
It's creative, and unlike any other farewell gift they've gotten before
It's fun!
What's this farewell presentation look like?
Without further ado, I present to you "From Hydration to Hygiene: Goodbye Pedialyte, Hello Listerine."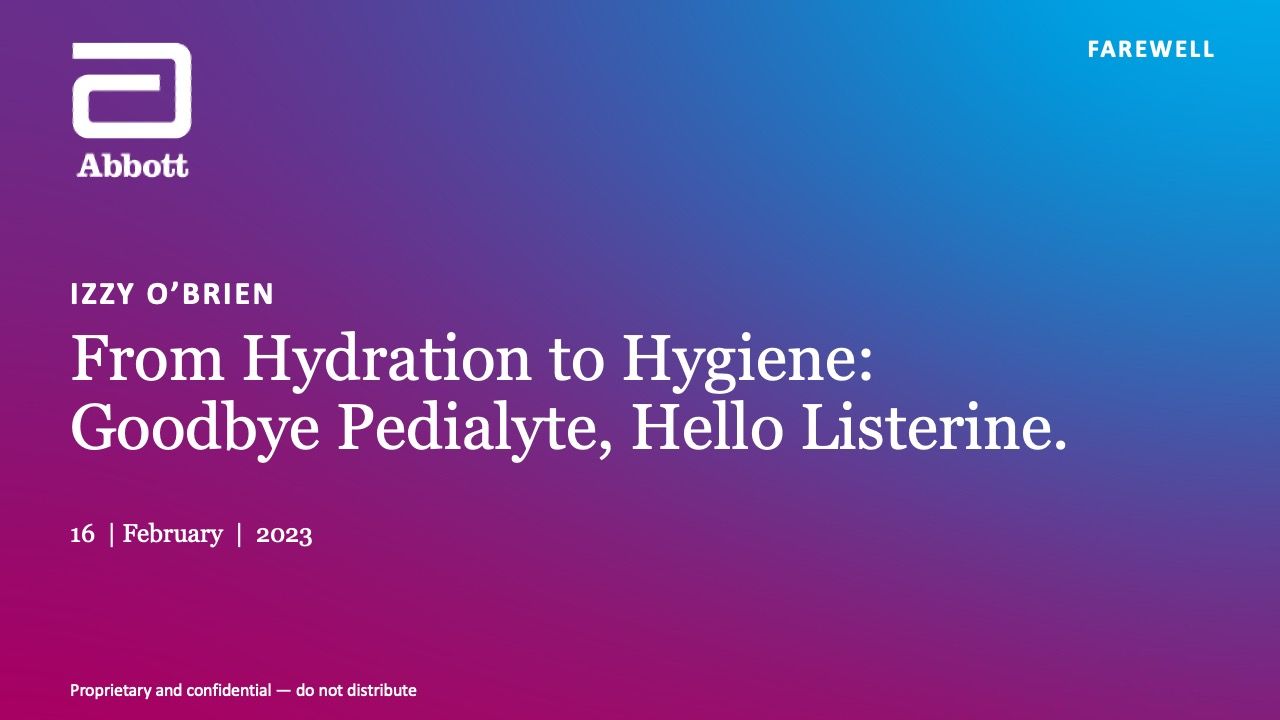 How was this presentation delivered?
There was a secret meeting on the calendar at 4pm, and everyone on the floor was invited. I printed out two copies of the deck on 11x17 paper. Crumbl cookies had been ordered and were spread out on the table.
People who worked most closely with Izzy began saying a few words wishing her well. When it was my turn, I started by saying, "Izzy, I wrote a poem for you."
I began reading the poem and flipped through the deck slide by slide.
There once was a gal named Izzy
A Pedialyte ABM oh so busy
She managed the powder, the budget too
And organic social content, through and through
With her skills, the budget was always right
She managed powder supply and kept it tight
Izzy mastered powders in the consumption deck
And without her here, Tom might be a wreck
She's lived across Arkansas, Florida, and North Carolina
But now she's moving, oh what a drama
To the land of the Sopranos and Jersey Shore
Where the turnpike tolls and the accents roar
But don't worry, dear Izzy, you'll fit right in
With your expertise in hydration, you're sure to win
You'll make the Garden State a healthier place
One electrolyte-infused smile on each face
Your Pedialyte team will miss you so
And Listerine's lucky, I bet they already know
Izzy is an excellent ABM, clever and smart
With her on board, the Listerine brand will be a work of art
She'll make sure all mouths stay fresh and clean
At Listerine, Izzy will become a true hygiene queen
From morning coffee to garlic and spice
You know Izzy will be giving great Listerine usage advice
So farewell, dear Izzy, we'll miss you so
But we know you'll shine, wherever you go
Listerine will be in great hands
Even though we all wish you were still here in our Ohio lands
😻
People absolutely loved it. Izzy loved it. She laughed so hard she said her head hurt afterward.
Finally, who is Izzy?
Izzy was my coworker on the Pedialyte brand team, and we both worked on consumption (understanding the drivers of the core business). She had powders, and I had Liters and Freezer Pops.
We were in the trenches every week, always digging deeper and deeper for that nugget or insight that would help deliver the sales volume for the brand.
It was a blast working with her, and if you couldn't already tell by the presentation—I'm going to miss her so much! 😭
Conclusion
Next time your work BFF leaves, you know how to send them off right. Let me know what you think!