It's only a matter of time before Microsoft begins incorporating ChatGPT technology into PowerPoint. I'm expecting something similar to what they've shared this past week with Bing. If you haven't seen it, I recommend checking it out!
Once it's available more broadly, Google will finally have some real competition in the search business, which they've had a  monopoly on for a long time. ChatGPT is impressive, and I can't wait to try it when it's available in Bing.
How do you use AI to create a presentation?
The best artificial intelligence presentation tool I've found so far is Tome. Tome AI calls their product "Generative storytelling." It's a great way to position a presentation software product since the best and most memorable presentations usually have a great storyline.
However, I suspect potential users will likely search for "AI for Presentations" or "AI for PowerPoint." Maybe that's how you even stumbled upon this page!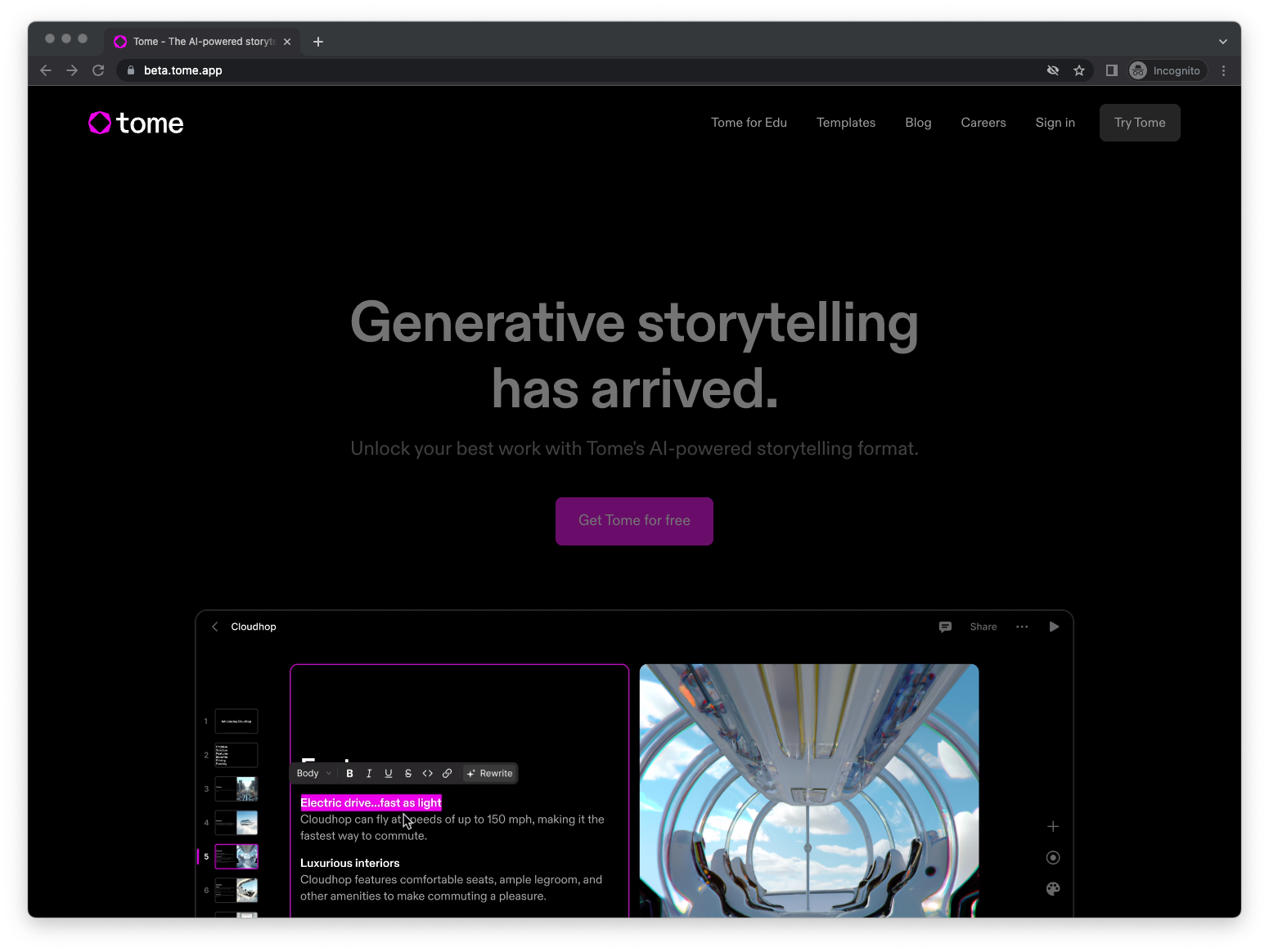 It's easy to sign up for a free account, and they start you off with 500 credits which translates into 500 AI-generated presentation pages/slides.
It's a web app that works in your browser. No downloads are required. No extra software.
They have a great starting guide that is a Tome presentation itself. You have to use the arrow keys to navigate the presentation.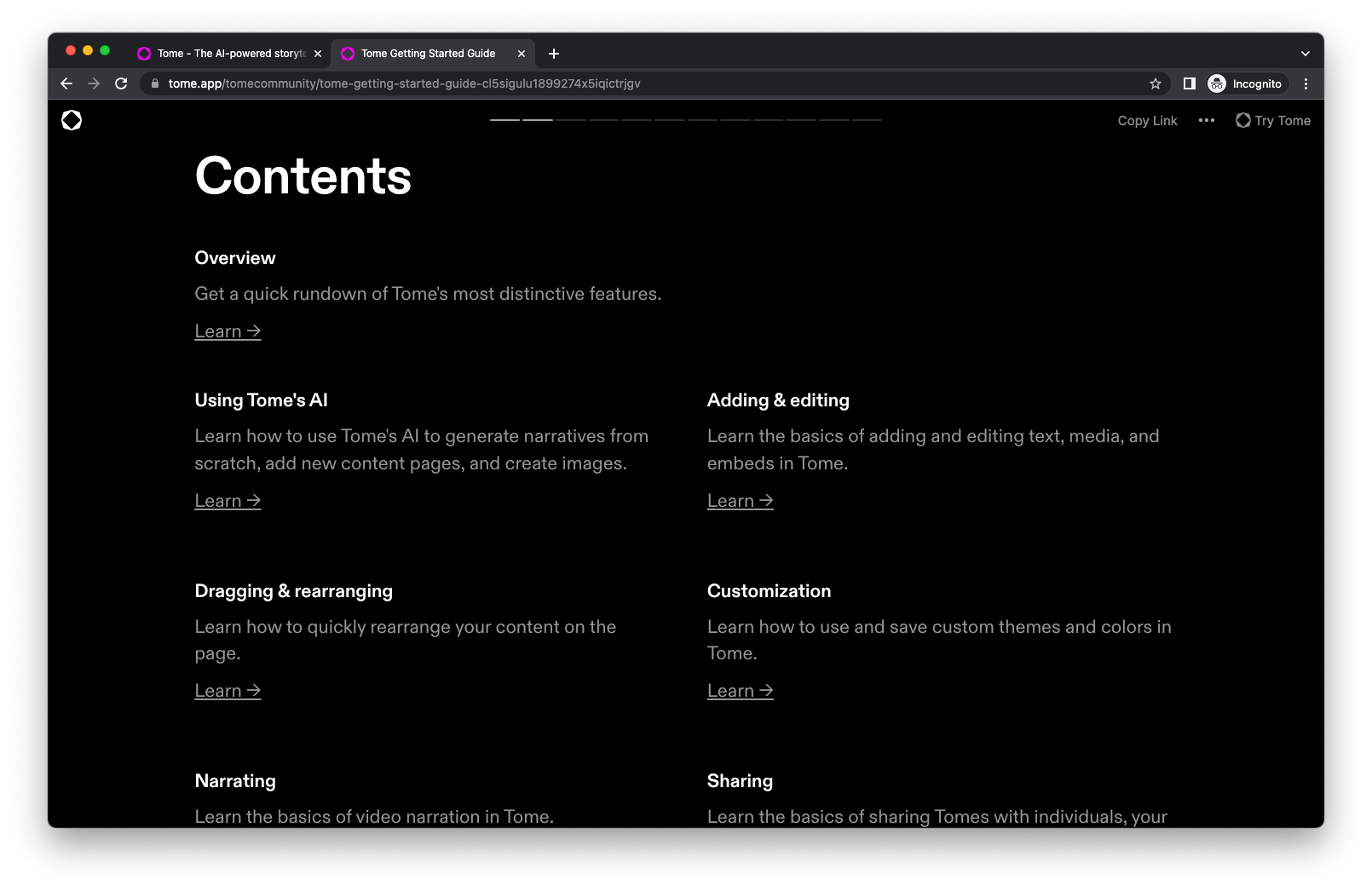 Is an AI presentation any good?
The short answer is—not yet. This AI presentation technology is going to get better quickly. But as of today, you can't enter a prompt and expect to get anything you could immediately take and present in a typical weekly business meeting at a typical big company.
I think you could have a lot of fun with it, and it does help get the presentation process jump-started by giving you content you could decide to keep or revise until it meets your specific presentation needs.
Right now, this AI presentation tool is probably best for really creative presentation projects that rely more on storytelling than the kinds of everyday business presentations which rely much more on data, charts, and tables.
What's the best feature?
Even though you might not get a presentation that is ready for prime time in the boardroom, this generative AI is still really exciting and fun to play around with. As of this writing in early 2023, this generation of AI tools are all great assistants for people who create presentations. The strength of this tool is its ability to help brainstorm and generate variations and novel perspectives or ideas. You still need someone with good judgment and expertise to transform it into something usable.
Tome also enforces good design by having a tile system, which means that even though you can drag and rearrange images and text, it snaps onto the page in a clean and organized way. Compare this to the typical process of copying and pasting an image from Google images into PowerPoint. You have to align and resize the image manually. Unless you are a designer or proficient in PowerPoint's grid and alignment features, it will be hard to beat what Tome does automatically with the tile system.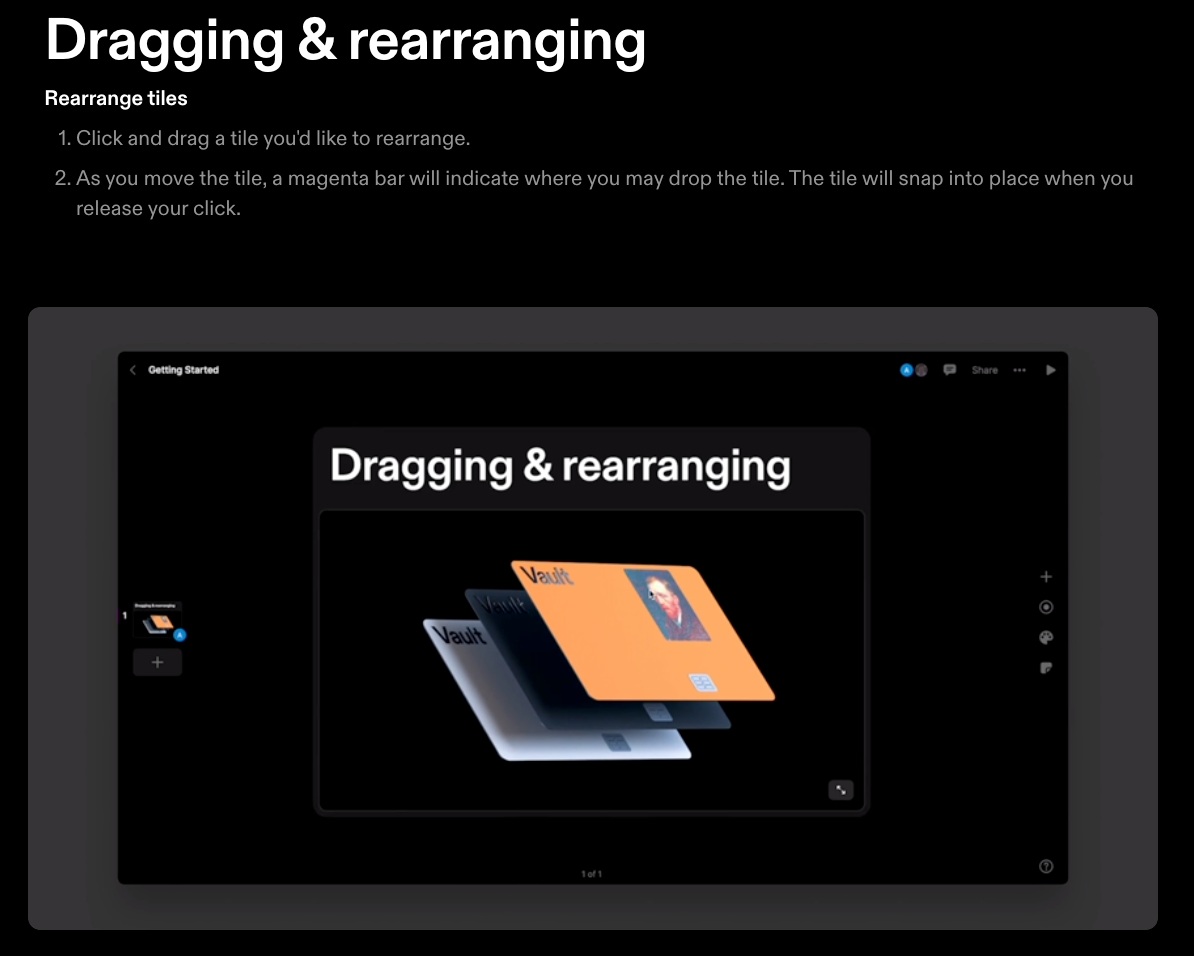 What's an example of an AI-generated presentation?
Here's an example of a presentation I created with Tome. The prompt I gave it was:
Create a presentation for a product launch of Liquid IV Hydrate Wise, a drink mix with a gentle flavor and lower sugar content to help keep seniors hydrated and healthy.
With just that prompt alone, here is the 9-page presentation it developed in less than 3 minutes.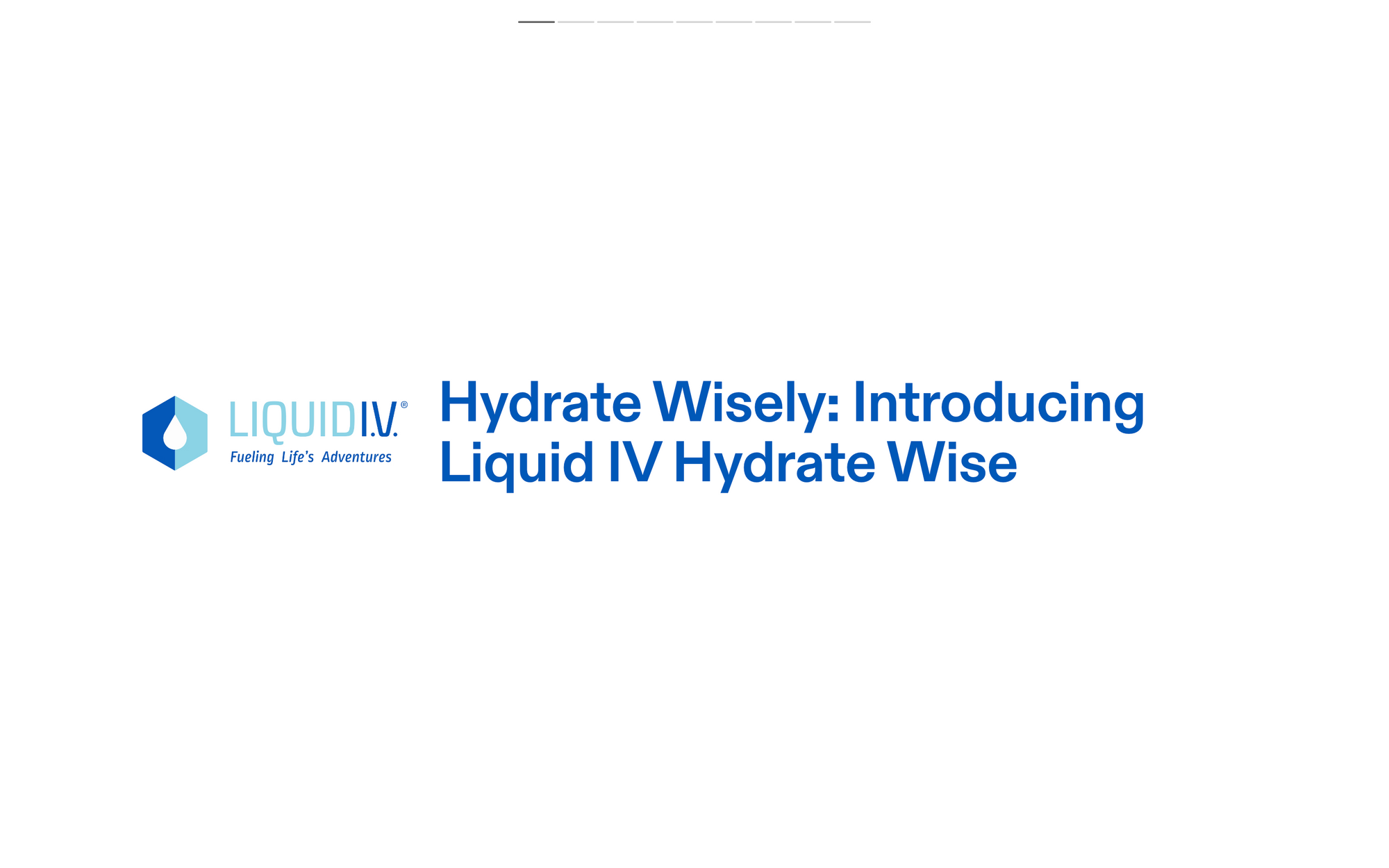 You can also access the presentation within the Tome interface.
You can tell that the content isn't very good if you read a few of the slides. It's really repetitive and quite verbose. The AI-generated images are also a little peculiar. For example, I don't know why it created watercolor images for each slide. Of course, you can change this right after the presentation is first generated.
If you want to change images afterward, then you can click on the image and have to give Dall-E 2 a prompt. It's great that this is built into Tome and that you don't have to jump back and forth between Tome and OpenAI's Dall-E webpage.
How do you improve an AI presentation?
One way is to mix and match AI tools and use your human judgment, experience, and expertise.
Here's what I mean. I first went to ChatGPT and prompted it to act as a Senior Brand Manager for Liquid IV.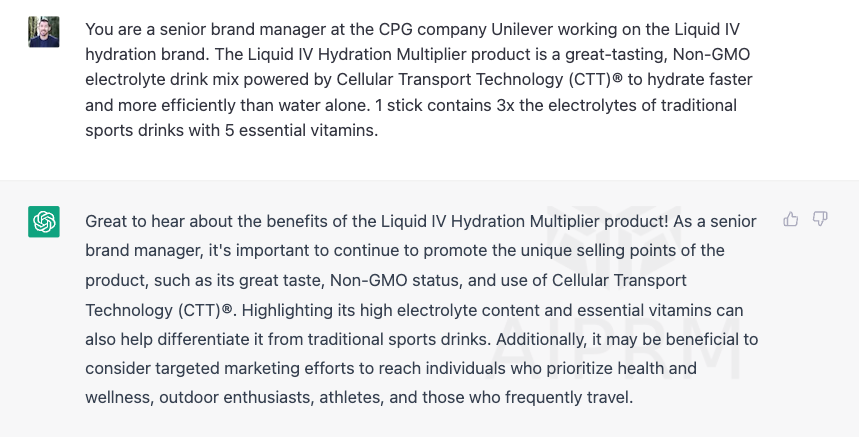 Then, I asked it for ten new product innovation ideas for the Liquid IV brand.

ChatGPT generated some interesting and creative ideas, but my favorite was number 5.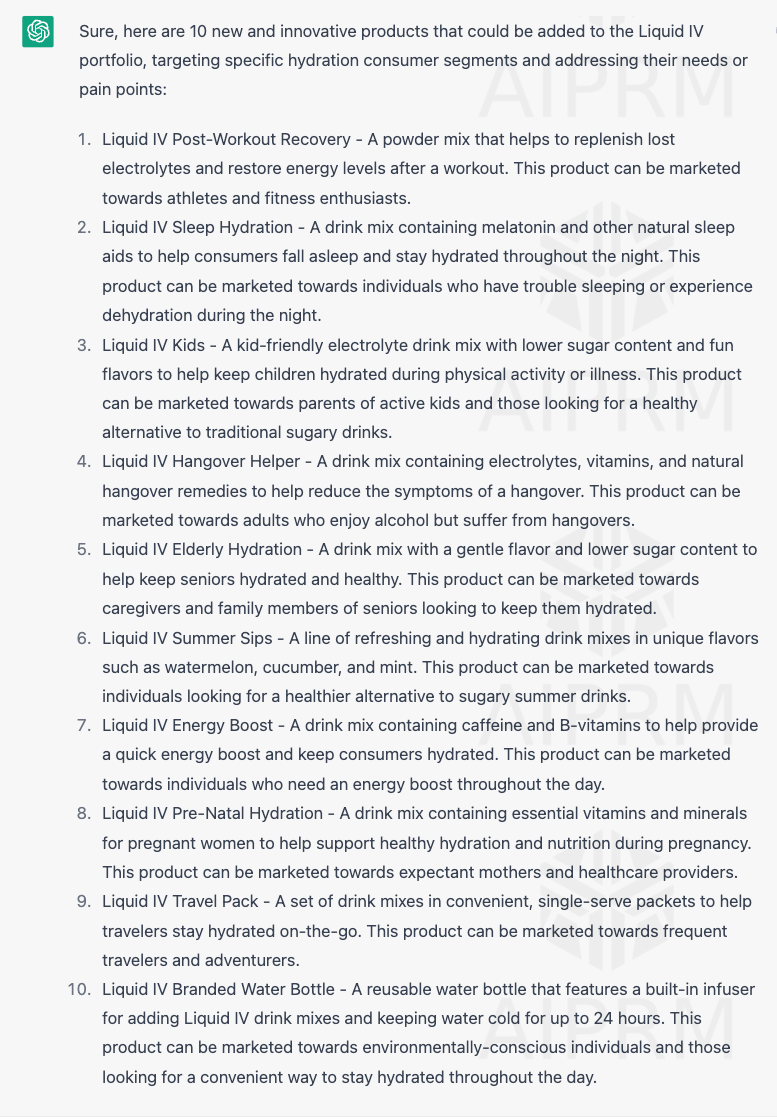 Since I worked on innovation projects as an assistant brand manager with Scotts Miracle-Gro, I'm familiar with the kind of presentation structure that works for this kind of concept pitch.
Here's the following prompt I gave ChatGPT: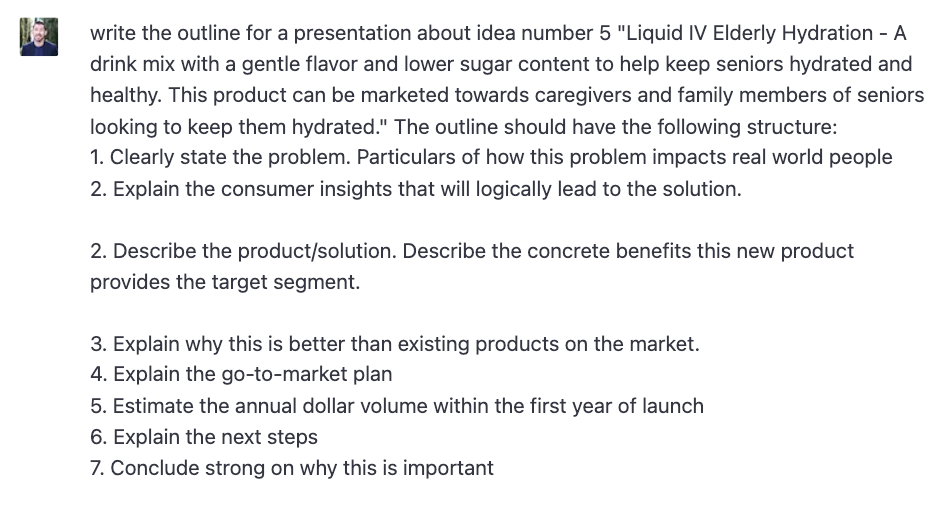 I took the output and manually created each slide in Tome. However, I realized Tome's AI image generation tool isn't as good as Midjourney or other options. So, I made each image using Lexica and then uploaded it manually into Tome.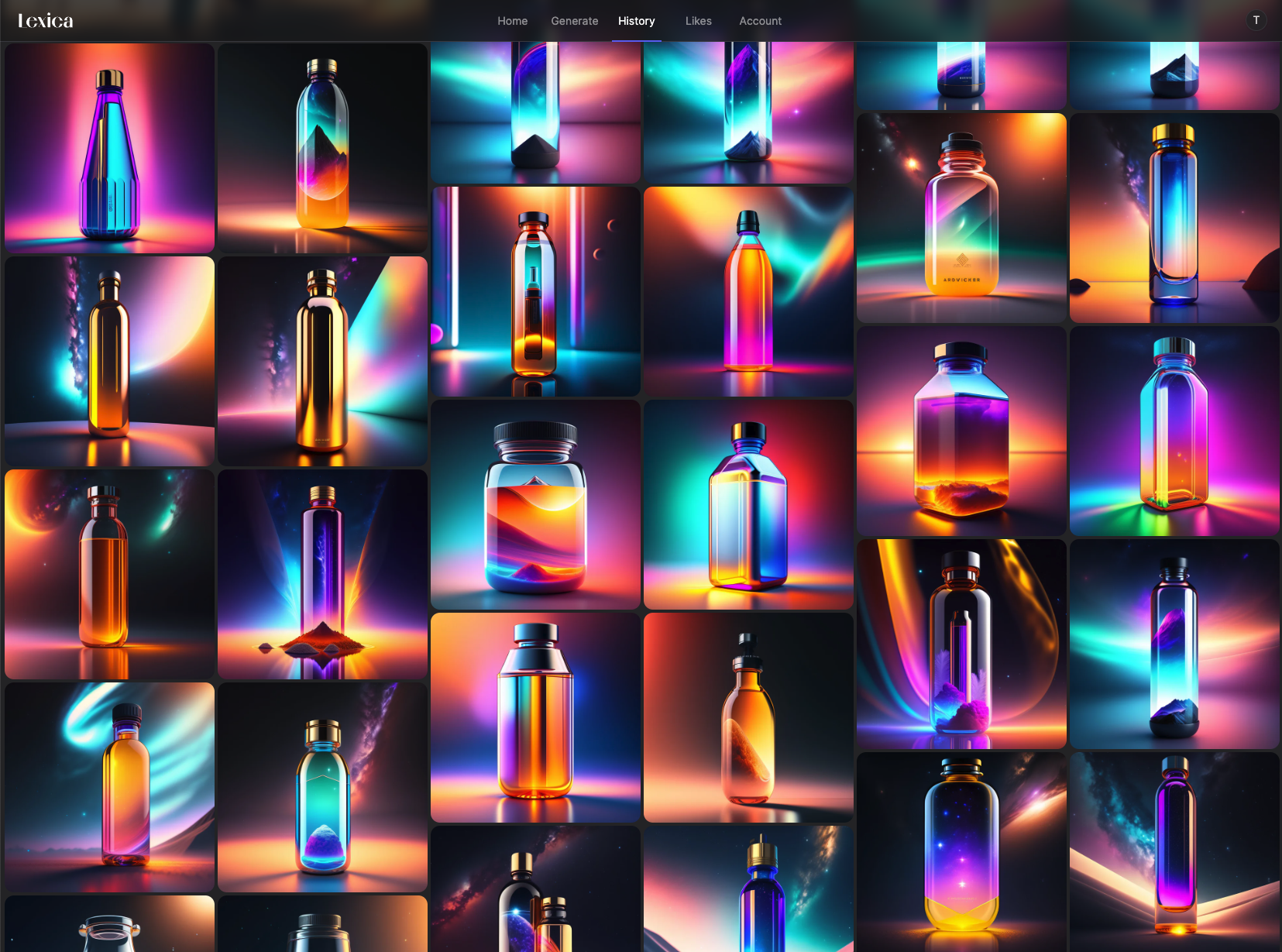 Is the final presentation any good?
I'd say it's a lot better than the first one that Tome generated! However, this presentation has a few significant challenges if we compare it to a standard innovation presentation you see in a CPG company from the brand team.
The biggest issue is that it lacks data and charts; without that, it's unlikely that stakeholders within the org would approve any project like this to get funded and worked on.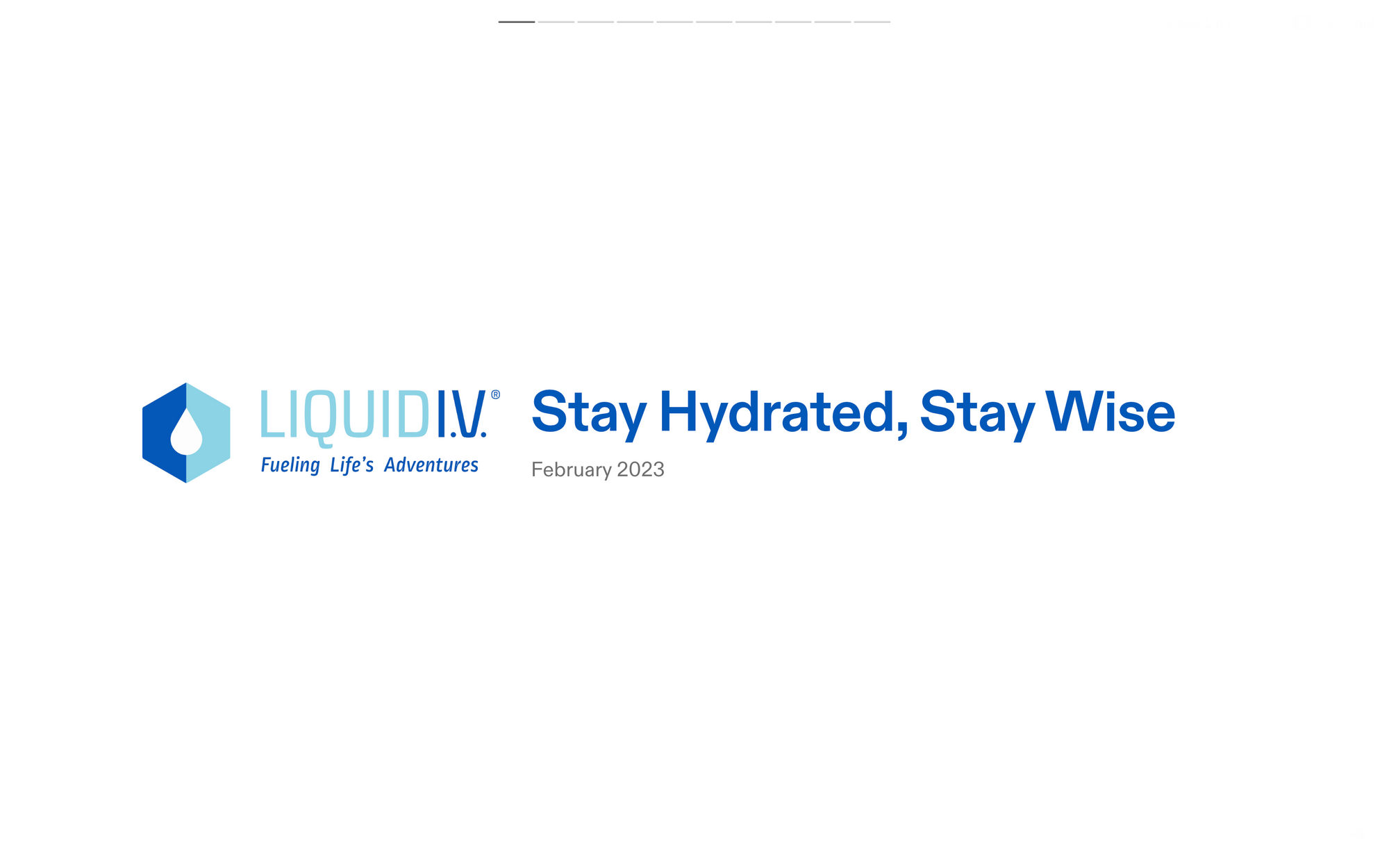 Conclusion
Overall, it's still a bit early to rely on AI presentation tools to create a good presentation. However, as I tried to show with the Liquid IV presentation above, you can mix and match different tools to give you a head start in ideating and brainstorming your next presentation.
These tools are so much fun and will only get better every week. My favorite is still ChatGPT; you can see how I used ChatGPT to prepare a workshop presentation.
What do you think? Could you create something in Tome that you could present in a meeting at work? Let me know!